I came ripping down the dusty desert road. There had been no signs of life in the past 100 miles. Then out of nowhere, in the middle of the desert I come across a compound a man in the distance on a child's 4wheeler is signaling me to pull in to the "gated community." It's Coco of Coco's Corner!
Lots of Coco's Corner – just click the link to continue.
As I pull in he motions me to park my bike in between some beat up old campers and he has cold beers waiting for Stephen and I. It feels great to relax after a long day's ride and Coco fills us in on his story while we cool off with some frosty Pacifico cervezas. 20 years ago, Coco was fifty-three years old, he had already had one leg amputated and as he drove down the dusty desert road he said "This is where I want to live" (Well I assume he said it in Spanish – although his english is quite good). He settled his land and built everything on his plot with scrap lumber and materials he found discarded elsewhere. His place is very clean and organized and the best element must be the thousands of empty beer cans strung up around the land. In an area that's so quiet and desolate, these cans blow gently in the wind and sound like flowing water – it's really quite beautiful.
Coco has done most of the work himself. Even now, with his other leg amputated as well, he's extremely motivated and he's always working hard around his ranch. He tied up a bed frame to his 4wheeler and towed it across the property. "Jump on" he said and he gave me ride. It was like a vibrating bed without putting in the quarters.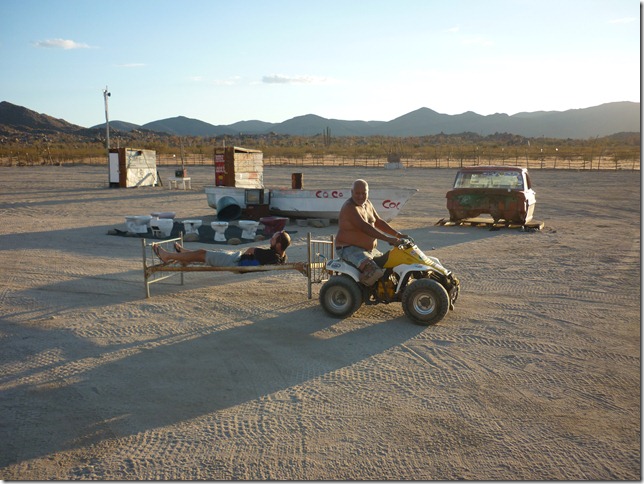 We chatted away all night and played around with some long exposure photos. Coco was utterly confused as I was running around with the flashlight so he dubbed these "crazy marijuana photos."
A shout out to the ADV inmates:
Night fell and it was time to turn in. I fell asleep staring up at the stars. No light pollution, just mexico and the universe – perfect. The next morning I snapped these shots of our accomdations. We couldn't have asked for anything better. I slept in the back of the truck.
And Stephen stayed on the rickety old bed frame where you can see Coco on his bed in the background. He said it hasn't rained since January – so sleeping under the stars is a nightly affair.
Before the hot sun peaked over the mountains I jolted down the desert road for a brief run – gotta stay in shape! What a great setting for a workout. I ran down the road where strung up beer cans lined the path for the Baja 1000 race cars. When I got back, Coco had some coffee, milk, and cookies for us all to share in the morning as we signed the guest book.
Stephen and Coco having breakfast.
Coco has 3 cats aptly named Coco, Cokie, and Cokito.
Just us goofing around on Coco's toilet seats.
Coco and Stephen scorpion hunting (Can't see the video? Click here)
Scorpion Hunting at Coco's Corner from Benny on Vimeo.
Scorpion snack anyone?
Coco's roof is lined with underwear donated from women over the years. It's pretty amazing actually.
Coco informed us that the next gas station had closed but there would be a man selling bottles of gas out of the back of his pickup truck. Instead, Coco offered us some free gas and we had no problems continuing on.
Meeting Coco and sharing time with him was one of those amazing lifetime experiences. I don't think I'll ever forget those few hours. Thanks, Coco!